John Pasco Sharrock and his children.
Virtually every Sharrock I have come across in Devon, Cornwall and Hampshire is descended from John Pasco Sharrock.
He was born, in 1812, in St Mawes, Cornwall. He joined the Royal Navy, in 1834, serving in H.M.S. Lynx until 1840. He then, both, joined the Coastguard and married Peggy Rowe at the local church of St. Just in Roseland.
As was usual in that profession he was required to move away and, initially, was stationed in Dorset where he and his wife had several children. The 1841 census shows John and his wife at Corfe Castle, in Dorset, whilst the 1851 has them back in Cornwall, at Port Isaac, with five children. The elder four ranged from one year to nine years, all having been born in Kimmeridge. The youngest, only three months old was born in Port Isaac.
Shortly after, the family moved, again, to Bude, in Cornwall. My own great grandfather was born in 1854. This must have been hard times for the family as three months before the birth John was sent to the Crimean War on the Prince Regent. He was one of four men to go from Bude and the only one to return, I have been told.
On his return a further daughter, Mary, was born.
The family, again, moved. Boscastle was the next location. Still in the Coastguard, in 1858, John assisted in the saving of sixteen men and a pilot after the "Defence" of Liverpool was wrecked at Beeney just north of Boscastle. In addition to a silver medal he was presented with a watch on which the numerals are replaced with the twelve letters of his name. (The watch was in good condition before I was given it as a very young child.)
<![if !vml]>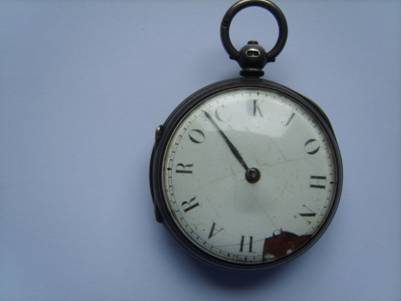 <![endif]>
The 1861 census was the last John appeared in for he died in 1869 and is buried at Forrabury Church, Boscastle.
That census, though, shows the extent of his family. It was as follows:-
Peggy Sharrock, wife, aged 46 who lived on to 1894 and is buried with her husband.
Peggy Sharrock, a daughter and dressmaker who died, unmarried, in 1868, aged 27 years
Joseph Sharrock (who was not actually recorded as he was probably at sea). He was Master of the smack Bottreaux Castle which drifted onto rocks when entering Boscastle Harbour and became a total wreck.
He had several children some of whom were employed as part of the stagecoach system running from the Wellington Inn Boscastle to such places as Newquay, Bude and Holsworthy. Members of the family, subsequently, could be found in those places.
John Pasco Sharrock was firstly an errand boy, then a commercial traveller and then owned a shop at the top of the village.
He had two children, Tom and Mabel, who themselves subsequently ran the shop. I had the great pleasure to meet them back in the late 1950s. It was they who told me that their Grandfather John Pasco Sharrock was the only one of four to return from the Crimean War and that he was never a well man after that.
Below is a picture of the shop where I met Tom and Mabel. From other pictures I've seen John Pasco Sharrock (the younger) is stood with, I like to believe, his son Tom. The shop has now become a dwelling house known as Sharrock's Cottage.
<![if !vml]>

<![endif]>
Matthew Sharrock went to sea. He was at one time master of the smack Mirre which traded quite a bit around Bude. In fact, in December 1875 it ran on to the rocks at that port and after getting off stranded on the beach. He is buried in the churchyard of Bude.
William Green Sharrock was another who went to sea. He married Sarah Ellen Stanbury in Appledore where they had four sons and a daughter. He died before he was forty and she married again. All four sons were apprenticed. Two of them, including my Grandfather moved to Southsea and the remaining sons stayed in the Appledore area.
Mary Jane Sharrock married John Hambly Inch, lived at Trevalga, a small hamlet between Boscastle and Tintagel. They had three daughters and four sons, and they are both buried in the Churchyard at Trevalga.
If any of the above could be related to you or you come from the various areas I may be able to tell you more or, perhaps, you could add to my knowledge.