Sharrock – How and where did the name originate.
You will have seen the extract from the "Visitation of Cornwall" in which Ribblesdale, and Shorrockhayes in particular, are given as the source of the family.
According to GUPPY in "The Homes of Family Names", SHARROCK and SHORROCK are Lancashire names possibly from Whalley (which is close to Shorrock Green, just outside Preston), whilst in "SURNAMES", by E. Weekley, there is mention of Herbert de Schirhoc, 1199-1332 Fine Rolls.
In "A Dictionary of British Surnames", P. H. Reaney, mentions Richard de Shorrok, 1332, as appearing in the Subsidy Rolls for Lancashire and suggests Shorrock Green, near Blackburn in Lancashire as the source of the name.
If the entry in the Visitation of Cornwall is accurate then there is a direct connection between the SHARROCK family and SHORROCK GREEN in Lancashire. It would also point to a probable link with the SHARLOCK, SHERLOCK, SCURLOCK and SCURLOG families whose Coats of Arms, shown in The General Armory are very similar to the one for SHARROCK in the Cornish Visitation.
According to the Rouge Dragon Pursuivant, in his letter of 19th May, 1993, there are no Arms recorded at the College of Arms for the Sharrock family. In fact he goes on to say those mentioned in J.L. Vivian's 1887 "Visitation", are different anyway.
According to the "Visitation" the first Sharrock was, in fact, a Shorrock. He is shown without christian name and that he married the daughter of Dewhurst. Working to roughly thirty years a generation, he would have been born about 1470.
The "History of Lancashire" has several references, particularly for the Blackburn Hundred, of which the following is a, partial, extract:-
SHORROCK GREEN. The family of Shorrock appear here at an early date. William and Henry, sons of Roger de Shorok, occur about 1300. Richard de Shorrok was one of the biggest contributors to the subsidy of 1332. (21) William his son was a freeholder here in 1336. John de Shorrok contributed to the poll tax of 1379; and his son and heir William was in possession of "Old Shorock" in Mellor in 1411
(22) Geoffrey Shorock made his will before witnesses in 1459. For a long period the descent of the estate cannot be traced, but ultimately it passed to the family of Clayton of Blackburn.
(18) The two Lords of Mellor in 1292 sued Alice de Shorrok, Adam de Hunteleye and Henry de Sholley for felling 300 oak trees price 40s. in their wood since 1284. Deuyas afterwards withdrew Assize R.408,m 53d.
Further detail is given in the book "Mellor in Blackburnshire - A short History with supplement". An extract of which shows:-
Shorrock, of Shorrock Green.
The family of Shorrock or Shorok is mentioned at a very early date. Their original home appears to have been in the neighbourhood of Woodfold, where old maps and records give, not only Shorrock Hey and Shorrock Hey Fold, but also "Old Shorrock" and "Shorrock Green".
About 1300, William and Henry, sons of Roger de Shorok, are mentioned. Other members of the family, in the fourteenth and fifteenth centuries, were Richard de Shorrok, John de Shorrok, and Geoffrey
Shorrock. Their estate of Shorrock Green passed at a later date to the Claytons. There appear to be representatives of the family in Blackburn and Salesbury.
The area where the family lived is just to the west of Blackburn and south of Mellor. Around Woodfold park and its large lake can still be seen Higher, Lower and Middle Sharrock Hey Farms
An older map (1786), by Yates and showing both Shorrock Green and Shorrock Hey, is, in part, as follows.
<![if !vml]>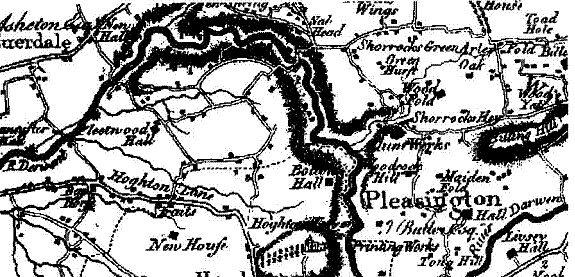 <![endif]>