Below is the Visitation entry for the Sharrock family. It comes from the 1620 Visitation of Cornwall. Veryan is a small village on the Roseland Peninsula of Cornwall.
The information would have been largely contributed by John Sharrock of Tregon-John a farm, very close to Creed Parish Church, That farm still exists.
Prior to that John owned a property, in St. Tudy, known as Polrode. A 16th Century property of that name still exists and was mentioned in the Domesday Book.
John Sharrock married into the very wealthy family of Matthew from the nearby, to St. Tudy, village of St. Kew.
In 1596, John, withhis brother-in-law, were in St Tudy Church following a service when he had a altercation with Edward Lower. (Lower was, I believe, the grandfather of Richard Lower famous for his work on blood transfusions.)
The altercation started with Lower telling John Sharrock "It is not fit to make a tailor's shop in the church." There is a suggestion that John's father was an illiterate tailor who signed documents with a small drawing of a pair of scissors as his mark.
John apparently replied "Thou art a usurer and a common usurer and proud of thy little mole hill and thou thinkest thou hast possessed or gotten a kingdom, but if thou and I do live I will make it less".
All the characters in the "tree" are well documented, elsewhere, with the exception of the "more hazy" first two generations.
<![if !vml]>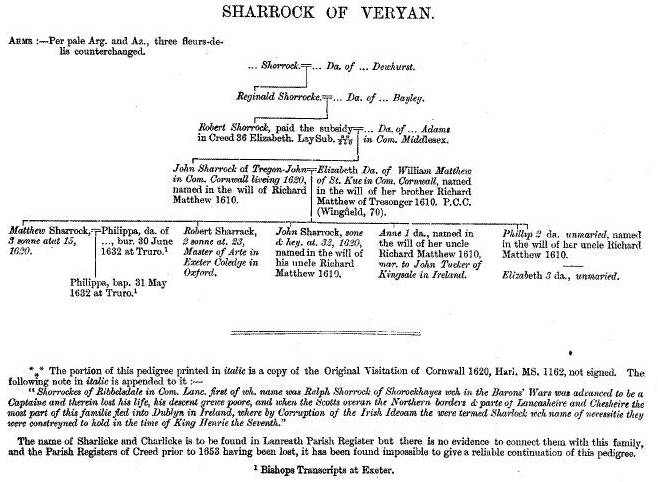 <![endif]>